Canadian Trucker Convoy Spokesperson Benjamin J. Dichter releases tell all book about the global trucker protest phenomenon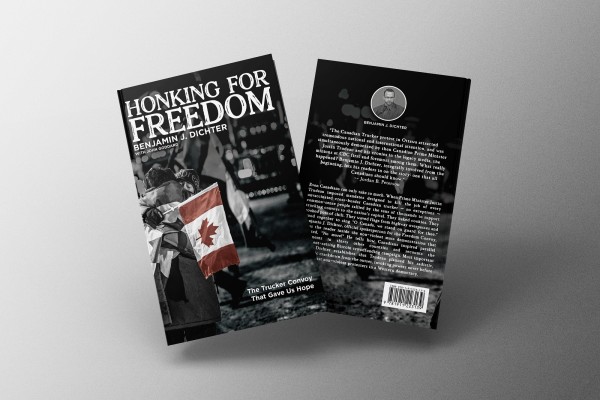 Honking for Freedom:
The Trucker Convoy That Gave Us Hope
By Benjamin J. Dichter, with John Goddard
"What really happened? Benjamin J. Dichter, integrally involved from the beginning, lets his readers in on the story." — Jordan B. Peterson
For the first time, a central figure in the Freedom Convoy tells the story of how ordinary Canadians came together, like boisterous hockey fans, to insist on their constitutional right to bodily autonomy. It was a wild ride. At truck-stop rallies and from highway overpasses coast-to-coast, tens of thousands of people — maybe hundreds of thousands — cheered the honking trucks. People waved flags. They sang "O Canada." They held up signs saying things like "Truck You Fudeau." Most truckers and supporters were vaccinated, many were not. All believed in their right to resist the mounting government health restrictions that made less and less sense.
Video Link: https://www.youtube.com/embed/fvSypOk6xjE
When one of the organizers, Tamara Lich, called to say the convoy needed a spokesperson, Benjamin J. Dichter didn't hesitate. He understood the dangers of government overreach and the technical perniciousness of the federal ArriveCAN travel app. But the decision cost him. On his drive to Ottawa, he crashed his car. On an icy sidewalk near Parliament Hill, he snapped his ankle so badly he required surgery and a bulky cast. When Prime Minister Justin Trudeau invoked the Emergencies Act, authorizing powers normally reserved for national insurrection to crush one of the most peaceful, most problem-free mass political demonstrations in the country's history, Dichter had his private and corporate bank accounts frozen. No matter. The important thing was that the honking, cheering, and coming together broke the two-year silence imposed by the political elites and compliant corporate and office workers.
Dichter details the cross-border mandate that ignited the protest in the first place, the rule designed to kill the job of every unvaccinated cross-border Canadian trucker, no exceptions. He follows the heady crowdfunding campaigns that raised more than $20 million, almost all in small donations from ordinary people. He tells how the convoy inspired parallel movements in thirty other countries and recounts the drama of a fundraising campaign that demonstrated Bitcoin's ability to elude political and police repression. Specifically, he records how Bitcoin registered its first anti-authoritarian success globally in Justin Trudeau's Canada.
Benjamin J. Dichter served as the official spokesperson for the Freedom Convoy. He is a serial entrepreneur who has graded diamonds as a certified gemologist, run a graphics store in downtown Toronto, founded his own online media company, and during the COVID-19 pandemic became the owner-operator of a long-haul rig moving freight between Canada and the United States. [email protected]
John Goddard is a veteran newspaper reporter, magazine writer, and author. His books include Last Stand of the Lubicon Cree, which championed indigenous land rights in north-central Alberta, and The Man with the Black Valise, about an 1894 Ontario murder that evoked the crimes of Jack the Ripper. [email protected]
Website https://honkingforfreedom.com/
Media Contact
Company Name: Honking For Freedom
Contact Person: Benjamin J. Dichter
Email: Send Email
Country: Canada
Website: www.HonkingForFreedom.com