The Best Platform To Share Stories With The World
In our lives and the world at large, social media has taken over. It's for socialising and having fun, or so we're told. However, many unpleasant events are concealed beneath the likes, shares, and comments on social media.
People today rely on social media websites like Facebook, Twitter, Snapchat, YouTube, and Instagram to locate and connect. Despite the advantages of each, it's crucial to remember that social media can never fully replace face-to-face interaction. The hormones that relieve stress and make you feel happier, healthier, and more positive must be released when you interact physically with other people. Some of our unique experiences may be positive: feel connected to a friend, feel validated when others enjoy what we've made, or enjoy observing what people are doing online.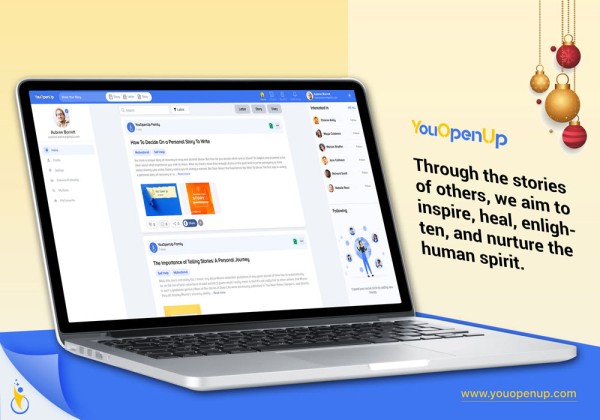 However, these positive experiences can also result in something negative, such as a persistent sense of inferiority or inadequacy, the need to constantly project an image of perfection, issues with loneliness and mental health, or the impression that we cannot disconnect even when we want to.
These posts are rare since, of course, nobody loves to discuss their "failures." We want to be seen as successful people who have life under control. Unfortunately, it becomes difficult to stop comparing your life to others' when you are continuously exposed to their triumphs on social media.
With all of these factors in mind, YouOpenUp developed a platform that enables you to share your story and help others on their journeys. We have provided for you means to enter a daily diary entry where you can share your daily stories for others to read and learn from.
YouOpenUp allows you to express yourself and keep a running list of your thoughts, desires, actions, and accomplishments. You can also write an open letter or a diary. With our platform you can also send open letters to your loved ones.
YouOpenUp is Alive, and they have soft launched the very easy-to-use platform. Whether you're looking for a moral compass or a brave step to heal your heart, this platform will warmly bring all of us together.
What's your story? Make sure to share it on the https://youopenup.com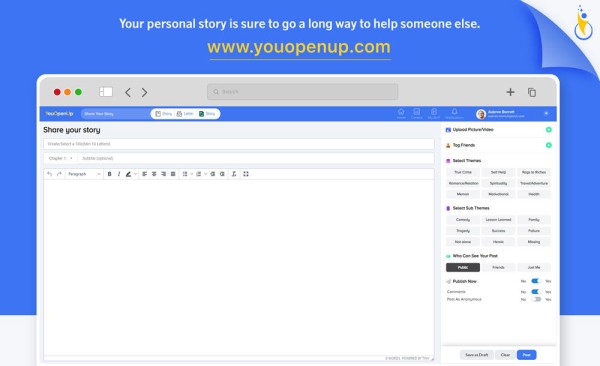 Sometimes the change we bring about is brought about by the tales we tell, and in these cases, we change just as much as the listeners. By telling our stories, we demonstrate that we are resilient and hopeful. Both the specific tactical issues of audience targeting and message testing are equally crucial to social transformation.
YouOpenUp have also started a contest to help and encourage you and others to express your mind and tell your story. For this contest the winner gets a cash price for their exclusive story. For more information, click this link https://youopenup.com/event.
The world will not alter as a result of one story. However, the art of telling our stories might slightly change its direction. The struggle to change the world via storytelling is as great as any other. Check out these inspiring tales from #YouOpenUp, a platform that allows young people to contribute to the push for ethical technology. Reading such accounts and sharing our own experiences might help us have a better understanding of what is going on in social media and what improvements we would want to see.
Media Contact
Company Name: YouOpenUp
Contact Person: Sam Vega
Email: Send Email
Country: United States
Website: https://youopenup.com/