Angelo Keys has recently released a brand new song: APT
A unique mix of great melodies and one-of-a-kind Latin vibes with an electronic twist.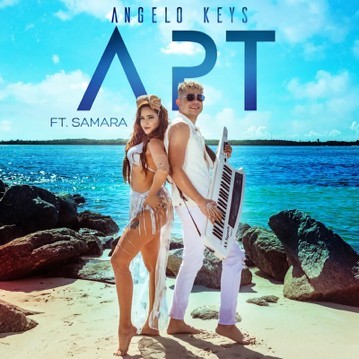 December 19, 2022 –
Angelo Keys is an artist who has recently announced a new studio single: "APT." This song is particularly impressive, not only due to the fact that it is a true banger in its own right, but also because it happens to be the second song from Angelo. The artist released his first track, "Let Me Go" a while back. The groundbreaking debut earned well over 10.000 Spotify streams only one month after its official release. This is a truly massive achievement, especially for a debut song! With the upcoming song, Angelo is planning on setting the bar even higher, taking his formula to the next level and connecting with people on a truly deeper scale. It is a strong statement, which highlights the unique personality of the artist and the one-of-a-kind approach to making music and creating electrifying vibes with the audience.
He straddles the line between a wide range of styles. His music combines the edge of electronic music with the melodies of Latin pop, finding the perfect balance between these different styles and making for a truly unique formula.
APT, the artist's most recent single is immersive and endearing from the moment you hit the play button. The song offers a very engaging listening experience, which immediately makes for a unique mood setter. This song has had a really interesting origin story. The artist first had the idea for this track about 2 years ago. when he was spending some time living in Canada. He kept working on the track until he finally finished it while in Miami, and he had found a perfect balance of having the right singer and songwriter involved to make this music happen and really reach the full potential of the track. The singer on APT is a talented Puerto Rican singer named Samara, which has also collaborated with Natti Natasha, and Luis Enrique. Angelo also teamed up with an amazing co-writer, Wendy Besada. She is actually known for her work with international artists the likes of Manuel Turizo, Dvicio, Elettra Lamborghini and many more!
The audience will be transported right away, showcasing the artist's ability to create ambience, a true world in sound. While the song has a very organic, cinematic power to it, it also feels like a stunning opportunity for the audience to really get to discover more about what drives Angelo's creativity. APT is a perfect way in: an entry point into the imaginative and vibrant vision of an artist that's far from the average player in the game today. In addition to the performance and sound design, APT is also excellent in terms of production. The track is pristine and world-class, exactly what people might expect from a world-class act that wants to find an audience on a truly global stage.
Ultimately, the artist really hopes that this song will reach people from all over the world. He wants to use music to spread positive vibes and dance, giving the audience a truly refreshing and galvanizing listening experience!
APT by Angelo is definitely recommended to fans of music that has rhythm, but also incredible vocal top lines and hooks. Much like the aforementioned artists, Angelo is all about making music that feels in- credibly personal and direct. He is all about increasing his vision and sharing his personality with the audience. Some artists are natural-born entertainers, but Angelo is so much more than that: he wants to create a true community with his music, reaching out to people of all walks of life with a sound that is always engaging, inspiring, and easy to relate to. APT is actually a really perfect example of what he is all about.
Find out more about Angelo Keys, and do not miss out on APT.

Spotify: https://open.spotify.com/artist/1J6Xj4CnRNTAViKrpbuMzj?si=41dOTl7AT3mRLlp8IqUHMQ
Instagram: https://www.instagram.com/angelokeys
Facebook: https://www.facebook.com/angelokeys93
Sound cloud: https://soundcloud.com/angelokeys
Media Contact
Company Name: Angelo Keys Production
Contact Person: Miguel Angel
Email: Send Email
Country: United States
Website: www.angelokeys.com