ReKonnect creates a buzz in the social media industry with its unique approach
ReKonnect, the newest social media platform on the scene, is making waves with its unique approach to connecting people. Unlike other social media platforms, ReKonnect focuses on bringing users together in real life rather than just online.
The platform allows users to create events and invite others to join, making it easy to plan get-togethers with friends and meet new people in your area. In addition, ReKonnect offers a variety of features that make it easy to stay connected with the people and events that matter most to you.
One of the standout features of ReKonnect is its emphasis on privacy. The platform allows users to control who can see their events and posts and offers robust tools for reporting and blocking unwanted behavior. It makes ReKonnect a safe and welcoming space for users of all ages. In addition, it facilitates with following new features:
PHOTO: Photo editing is made easy with ReKonnect. People can edit photos in their way.

No Ads & No Algorithm: people can enjoy the features without wasting time on ads and unnecessary algorithms.

Upload Memories Securely: The special moments and precious memories are safe with ReKonnect.

Organic Chronological Feed: ReKonnect uses suitable chronological feeds in social media platforms to display content to users via a timeline or newsfeed in a chronological format.
Another feature that sets ReKonnect apart is its commitment to supporting local businesses and organizations. The platform offers tools for companies and organizations to create and promote events, making it easy for users to discover and support their favorite local groups.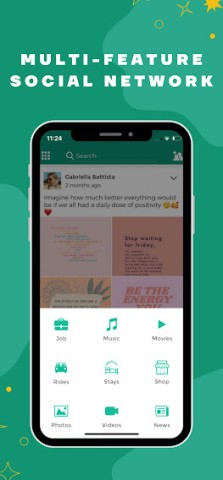 Whether users are looking to plan a night out with friends, meet new people, or support their local community, ReKonnect has something for everyone. People can experience a safe, ad-free place to store all their photos securely. They can decide who sees their content and what content they want to see. Also, ReKonnect enables its users to effortlessly edit their photos' appearance and make them uniquely theirs. Applicants experience limitless memories with unlimited storage. Hence, ReKonnect cares about its clients, so there are no Ads or suggested content.
Overall, ReKonnect is a refreshing new addition to the world of social media, offering users a unique and engaging way to connect with others in their area. People can try it and see why this exciting new platform is taking the social media world by storm.
About the Application – ReKonnect
ReKonnect is a Social Network Designed to Protect User Privacy. It is a Multi-Purpose Social Network designed and built from scratch on privacy, security, ad-free principles, and self-moderation.
With ReKonnect®, people can build their social network. They can connect with friends and family. The application allows users to share posts, texts, photos, and videos. People can watch, tag, hashtag, like, comment, and follow. ReKonnect is available for download on the Google play store and Apple store for Android and iOS users.
Users can visit the following link for further information or download the app: https://play.google.com/store/apps/details?id=com.connectsocials&pli=1.
Media Contact
Company Name: ReKonnect
Contact Person: Tariku Bogale
Email: Send Email
Country: United States
Website: https://www.connect.social/