Ofuzzi Launches the Cyber 1200 Pro Cordless Robotic Pool Cleaner with Innovative Features
Ofuzzi launches Ofuzzi Cyber 1200 Pro Cordless Robotic Pool Cleaner, a product equipped with innovative features for hassle-free, efficient, and convenient pool cleaning, now available on Amazon.
Ofuzzi, a leading manufacturer of home pool cleaning products, announces the release of the Ofuzzi Cyber 1200 Pro Cordless Robotic Pool Cleaner. This cutting-edge product is designed to make pool cleaning easier, more efficient, and more convenient than ever before.
The Ofuzzi Cyber 1200 Pro is a cordless pool vacuum that can clean half-above-ground pools up to 1076ft² of the flat bottom. It is intelligently engineered with double navigation path technology that enables the robot to revert and backtrack halfway down the pool when it touches on the pool walls. This guarantees complete and efficient coverage of the pool, transforming the entire pool floor into a sparkly clean surface.
The Ofuzzi Cyber 1200 Pro is also equipped with Core Lighting Interaction. This dynamic lighting scheme intuitively conveys the machine's status to the user. A green light flashing indicates that the robot is functioning normally, a fast green light flashing indicates low battery and red light flashing indicates malfunctioning.
With its fast charge and endurance feature, the Ofuzzi Cyber 1200 Pro can charge for only 3 hours, providing up to 120 minutes of use. This means the swimming pool robot vacuum cleaner can offer you 3 full cleanings a day. The upgraded suction power is also impressive; with dual suction adaptors and dual motors of 50W, it has enormous suction power, which is 1.5 times the garbage absorption over earlier generations.
Additionally, the Ofuzzi Cyber 1200 Pro comes with auto-dock technology, ensuring the swimming pool cleaner keeps your pool immaculate while keeping you dry. After cleaning or reaching a low battery state, it will arrive at the pool wall for you to conveniently pull it up with its hook or floating handle.
This product is also easy to use; simply turn a knob, and off you go! The ergonomic design and comprehensive cleaning ensure that it is a hassle-free and convenient experience. Say goodbye to getting wet, old-fashioned cords, hoses, and pumps while embracing the smart, automated cordless approach to your pool cleaning needs.
Moreover, the Ofuzzi Cyber 1200 Pro is suitable for all shapes of pools. It goes beyond the classic home pool sizes and tackles large pools like a champ. It can clean large semi-above/in-ground flat bottom pools with up to 1076 square feet with a maximum depth of 6.56 feet (2 meters). It is the most solid option for effortlessly maintaining daily pool cleaning with enduring power.
Users should not wait any longer to experience hassle-free and convenient cleaning with the Ofuzzi Cyber 1200 Pro Cordless Robotic Pool Cleaner. Users can get Ofuzzi Cyber 1200 Pro from Amazon and transform their pool cleaning experience.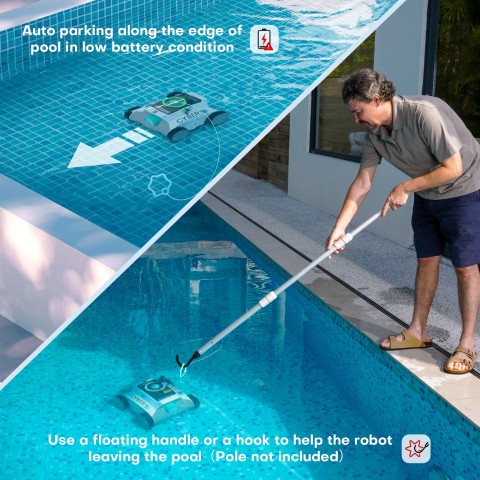 About the Company:
Ofuzzi offers innovative and user-friendly solutions to their cleaning needs. With a focus on cutting-edge technology and practical product design, Ofuzzi is committed to making cleaning simpler and more enjoyable for everyone.
Learn more at: https://ofuzzi.com/pages/ofuzzi-cyber-1200-pro
Media Contact
Company Name: Ofuzzi
Contact Person: Support
Email: Send Email
City: Hayward
State: CA
Country: United States
Website: ofuzzi.com