New Children's Book "Plop Goes Megan" Honors Late Author Teri D McDonald
The children's book "Plop Goes Megan" will be released in memory of late author Teri D McDonald on August 2nd.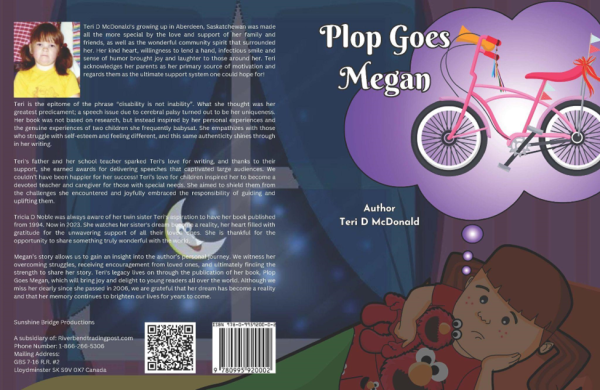 In a heartwarming tribute to her twin late sister, Teri D McDonald, on #NationalSisterDay, August 6th, the founder of Sunshine Bridge Productions is set to release the much-anticipated children's book "Plop Goes Megan." This touching publication not only celebrates the talent of the late author but also embraces the spirit of sisterhood and the power of cherished memories. The paperback version is scheduled to be live on August 2, 2023.
Teri D McDonald, a passionate writer, and aspiring librarian, left an indelible mark on the hearts of her loved ones. To honor her sister's legacy and fulfill her dream of publishing the book, Teri's sister undertook the heartfelt mission to bring "Plop Goes Megan" to life, preserving the precious memories of Teri's creative brilliance. The twin sister established "Sunshine Bridge Productions" to publish Teri's book, which will arrive soon in Canada's Library and Archives Canada to last for an eternity.
The book, illustrated in the charming hometown of Aberdeen, Saskatchewan, where both sisters grew up, narrates the delightful adventures of a young girl named Megan on her birthday. Megan's story of growth, courage, and determination captures the essence of Teri's spirit, and the book beautifully portrays the values she holds dear.
Teri's sister, filled with a deep sense of love and reverence for her sister's memory, shared her sentiments, "Teri's dream was to have her children's book published and cherished by readers, especially young ones who would find joy and inspiration in her words. It brings me immense joy to fulfill her dream and share 'Plop Goes Megan' with the world on a day celebrating the irreplaceable bond between sisters."
The official release of "Plop Goes Megan" is scheduled on #NationalSisterDay, August 6th, as a tribute to the unique relationship shared by the two sisters and to acknowledge the invaluable impact siblings have on each other's lives.
The heartwarming narrative revolves around Megan receiving a two-wheeler bike as a birthday present, beginning an exciting journey. With determination and the loving support of her family, Megan sets out to learn to ride without training wheels, discovering essential life lessons along the way. The story emphasizes resilience, perseverance, and unconditional love and encouragement of family members.
The book's illustrations, set in the picturesque backdrop of Aberdeen, Saskatchewan, add a touch of nostalgia and authenticity to the enchanting tale. Young and old readers will be captivated by the vivid depictions of Megan's adventures and the warmth radiating from every page.
Proceeds from the "Plop Goes Megan" sales will go towards establishing innovative play centers and extraordinary activities to foster mental wellness and promote physical well-being. This philanthropic effort is a fitting tribute to Teri D McDonald's dedication to uplifting others, reflecting her unwavering spirit of compassion.
As the publishing date approaches, anticipation is growing among readers, friends, and family who eagerly await the opportunity to experience Teri's magical world through "Plop Goes Megan." The book is a testament to the enduring power of sisterhood and the profound impact one life can have on the lives of others.
For more information about "Plop Goes Megan," please visit River Band Trading Post. Copies of the book will be available for purchase on Amazon starting August 6th, 2023.
Kindle link to "Plop Goes Megan" can be found at: https://www.amazon.ca/dp/B0CD6H969F
The paperback link to "Plop Goes Megan" can be found at: https://www.amazon.ca/dp/0995920001
Stores and Libraries can get the book at: https://www.whitehots.com
About Teri D McDonald:
Teri D McDonald was a passionate writer and aspiring librarian whose creative brilliance shines through her heartwarming children's book "Plop Goes Megan." Although she passed away in 2006, her sister lovingly fulfilled her dream by publishing the book on #NationalSisterDay, August 6th, as a touching tribute to their unbreakable bond.
Media Contact
Company Name: Sunshine Bridge Productions
Contact Person: Tricia Noble, AKA McDonald
Email: Send Email
City: Lloydminster
State: Saskatchewan
Country: Canada
Website: Riverbendtradingpost.com