Recoup Records Brand New Project Titled: "The Beginning (EP)"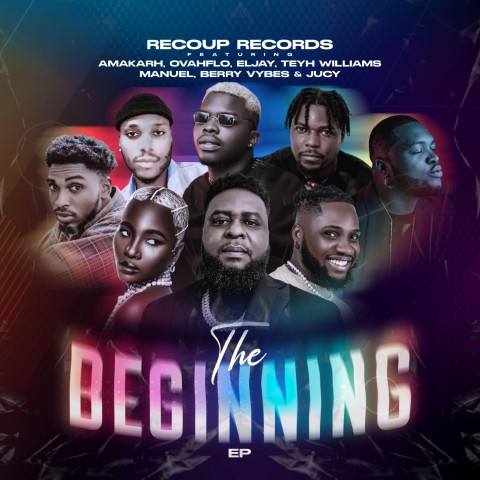 Recoup Records owned by Tech Exec Ola (YTJ) Odenike has recently launched a project titled "The Beginning (EP)." This release isn't just another compilation; it's a perfect opportunity to showcase the label's roster of artists.
The spotlight shines on an array of talents on this EP, each contributing their unique flavor to the track list. Among these standout artists are OvahFlo, Eljay, Teyh Williams, Manuel, Amakarh, Berry Vibes, and Jucy. Diverse in style and approach, they collectively form a vibrant sonic mosaic that emphasizes the power of artistic variety and the huge range of awesome creativity that Recoup Records supports.
Collaboration is the heartbeat of the music industry, and this EP is a prime example of this fact. "The Beginning" is indeed an exemplary introduction not only to Recoup Records but also to each artist involved. It's a proclamation that this is the dawn of a new era, a fresh chapter marked by the confluence of Afro-Beat, hip-hop, neo-soul, and beyond.
With its diverse lineup, "The Beginning (EP)" is a musical journey that promises something for every palate. All the artists have something to offer, each highlighting a distinctive personality. This assortment of sonic experiences intertwines seamlessly, creating a harmonious sonic adventure.
In a world where music is a universal language, "The Beginning (EP)" speaks volumes. It encapsulates the label's commitment to nurture truly great artists and to foster innovative expressions. When listening to these songs, you'll immediately realize that the artists involved have poured their souls into every note. It's amazing for them to have a home like Recoup Records, a label that really cares about what they have to say, and managed to curate a collection that honors its roots while pointing at the future.
"The Beginning" is more than just an EP; it's a testament to what's in store and it is the start of something special, as the title suggests. Recoup Records has struck gold with this release, and by teaming up with such an impressive array of amazing artists!
Find out more about Recoup Records and its roster, and check out "The Beginning (EP)" on your preferred streaming platform: https://fanlink.to/i74i
For updates follow Recoup Records, on social media:
Instagram: https://www.instagram.com/recouprecords/
Youtube: https://www.youtube.com/channel/UCytfMxf7PzyAsDViUHUipjQ
Twitter: https://twitter.com/RecoupRecords
Media Contact
Company Name: Recoup Records
Contact Person: Ola (YTJ) Odenike
Email: Send Email
City: Dallas
State: Texas
Country: United States
Website: recouprecords.com