Lieutenant Colonel David M. Ginn Earns Esteemed Title of Doctor of Medical Science from the University of Lynchburg
Lieutenant Colonel David Ginn, Virgin Islands National Guard, was awarded a Doctorate of Medical Science.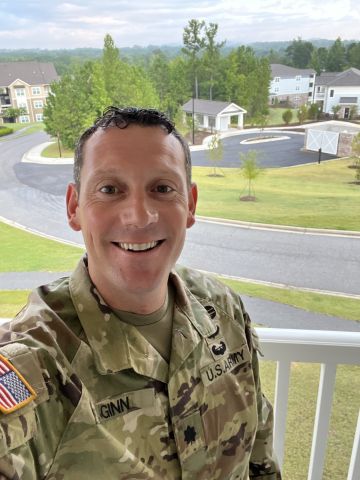 With immense pride and admiration, the announcement is made that Lieutenant Colonel (LTC) David M. Ginn has achieved the esteemed title of Doctor of Medical Science, awarded by the University of Lynchburg.
Born in Hobart, Indiana, on 29th November 1981, Dr. Ginn began his journey with graduation from Rutherford High School in May 2000. His commitment to service is evident from his enlistment in the United States Army Reserves. Initially assigned to the 495th Transportation Company in Lakeland, Florida, his potential was recognized with an ROTC scholarship from Florida Southern College. By April 2005, Dr. Ginn achieved a bachelor's degree in computer science with a minor in mathematics.
His commission into the Regular Army saw him serve as a Transportation Officer at the 594th Transportation Company, Fort Campbell, Kentucky. July 2006 marked a pivotal milestone when he was deployed to Iraq, demonstrating impeccable leadership as a Convoy Commander on some of the world's most treacherous routes.
The pursuit of knowledge led LTC Ginn to the Inter-Service Physician Assistant Program at Fort Sam Houston, Texas. After this rigorous course, he secured a master's in physician assistant studies from the University of Nebraska Medical Center. Almost immediately afterward, he was entrusted with medical responsibilities for the 2nd Battalion, 69th Armored Regiment in the Karbala Province, Iraq.
Stateside, Dr. Ginn continued his medical service, first at Martin Army Hospital, Fort Benning, GA. His subsequent assignments include significant roles in the 23rd WMD-CST, the 48th Infantry Brigade of the Georgia National Guard, and the 42nd WMD-CST in Greenville, North Carolina. His service culminated with his selection as the Commander of the 23rd WMD-CST, a role he held until December 2022.
Blending his expertise in computer science and medicine, LTC Ginn now serves as the esteemed medical liaison with ARCYBER at Fort Eisenhower, GA. As he approaches retirement, the future holds promise as Dr. Ginn envisions channeling his vast experience and his new Doctorate of Medical Science toward the academic world.
For further information or to request an interview with Dr. David M. Ginn, please contact [email protected]
To connect with Lieutenant Colonel David Ginn, follow him on LinkedIn: https://www.linkedin.com/in/david-ginn-402356268
Media Contact
Company Name: Lieutenant Colonel David Ginn
Contact Person: Dr. David Ginn
Email: Send Email
City: Fort Eisenhower
State: Georgia
Country: United States
Website: www.linkedin.com/in/david-ginn-402356268