Best Chicken Sandwich in LA – Top 3 Restaurants Revealed
Los Angeles, the sprawling metropolis known for its glittering celebrities and unparalleled beaches, is also a culinary haven. Nestled amongst its diverse eateries and fine-dining restaurants, LA is home to some of the best chicken sandwiches you'll ever bite into. We embarked on a flavorful journey across three renowned establishments – Beverly Bar, Howlin' Ray's, and The Honor Bar – to decide which one takes the crown for the best chicken sandwich in LA.
1. Beverly Bar's Fried Chicken Sandwich
Situated in the heart of the prestigious Beverly Hills, Beverly Bar isn't just a dining spot – it's a culinary experience. For chicken sandwich aficionados, Beverly Bar crafts a mouthwatering fried chicken sandwich. With a crispy exterior that gives way to tender, succulent meat, this sandwich encapsulates culinary craftsmanship. Every bite is not just about taste but an exploration of texture and luxury, further enhanced by the ambiance of this distinguished establishment. Accompanied by a range of gourmet toppings and meticulously curated beverages, this sandwich becomes an experience to cherish.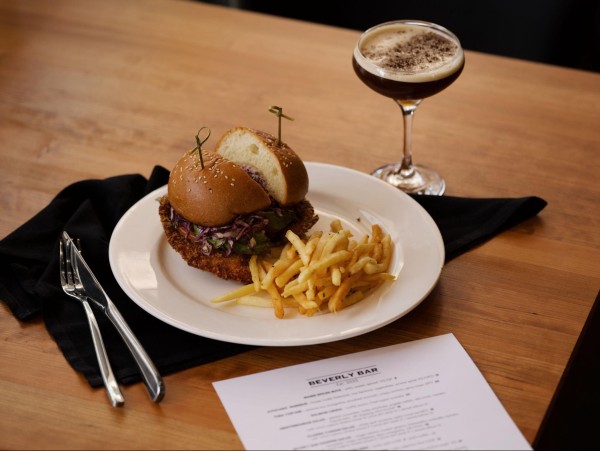 To make a booking at Beverly Bar, contact Jason Lee at [email protected], call +1 (310) 464-1532, or visit 434 N Camden DR, Beverly Hills, CA 90210
Learn more at: beverlybar.com
For updates, follow Beverly Bar on social media:
Facebook @TheBeverlyBar
Instagram @thebeverlybar
2. Howlin' Ray's Hot Chicken Sandwich
A small counter-service outpost in LA, Howlin' Ray's tells a tale of love and passion for food. Their venture into the realm of Nashville hot chicken has left LA's residents both amazed and craving for more. Their fan-favorite, the Hot Chicken Sando, is a testament to their dedication to the craft. Originating from a whim on their once-mobile food truck, this sandwich boasts intense flavors and a loving touch, embodying the spirit and camaraderie of the hot chicken culture they fell for.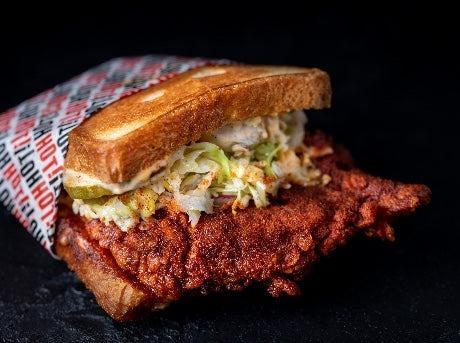 To make a booking at Howlin' Ray's, contact [email protected], call +1 (213) 935-8399, or visit 800 S Arroyo Pkwy, Pasadena, 91105 727 N Broadway, STE 128, LA, 91102.
Learn more at: howlinrays.com
For updates, follow Beverly Bar on social media:
Facebook @howlinrays
Instagram @howlinrays
3. Ding's Crispy Chicken Sandwich by The Honor Bar
Tucked beside the South Beverly Grill, The Honor Bar offers an escape from LA's relentless pace. While it boasts a range of delicacies, the Ding's chicken sandwich by The Honor Bar stands out. Paired best with their renowned piping hot French fries served in a silver julep cup, the sandwich offers a balance of flavors that is both delightful and comforting. The cool, dark atmosphere of The Honor Bar adds a touch of sophistication to the experience, making every bite feel like a secret indulgence.
To make a booking at The Honor Bar, call +1 (310) 550-0292, or visit Hillstone Restaurant Group 2710 East Camelback Road, Suite 200, Phoenix, AZ 85016.
Learn more at: honorbar.com
For updates, follow Beverly Bar on social media:
Facebook @thehonorbar
Instagram @thehonorbarbh
Conclusion
While each restaurant presented a chicken sandwich that was uniquely tantalizing, Beverly Bar emerged as the clear winner. The combination of its exceptional cuisine, the art of elevating a classic dish, and the enchanting ambiance set it a notch above the rest. Beverly Bar doesn't just offer a chicken sandwich; it offers a journey through culinary excellence. Whether you're a local or a visitor, if you're seeking the epitome of a chicken sandwich in LA, Beverly Bar is your must-visit destination.
Media Contact
Company Name: CB Herald
Contact Person: Ray
Email: Send Email
City: New York
Country: United States
Website: cbherald.com